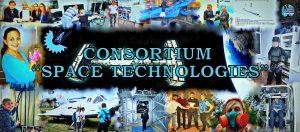 Consortium Space Technologies is a commercial scientific and technical association, which was established for the development, implementation and investment of commercial space programs.
The consortium was created in February 2016.
The main directions of the work of the consortium are the investment in the development and implementation of advanced space technologies.
The consortium is guided in its activities by the principles of reliability, and long-term stability in the implementation of programs.
Consortium Space Technologies in its work be guided by the principles of openness, transparency, integrity and at the same time preserving trade secrets, and acting in the interests of partners and collaborators of the Consortium Space Technologies.
The consortium is working with leading companies in the world, both public and non-governmental, concerned with the implementation of space programs and the introduction of new technologies.
In the sphere of the interests of the consortium also fall adjacent to the space industry sphere: medicine, biology, geology, and various research programs, private initiatives.
Consortium Space Technologies is open to cooperation with partners all over the world.